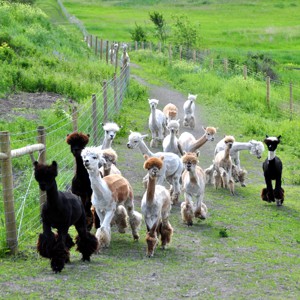 Camelot Haven Alpacas is located near Old Kamloops Road, Vernon, British Columbia, in the beautiful Okanagan Valley.
Bloodlines include:
Elite General Ledger
Jolimont Peruvian Ivano
PPeruvian Vengador
4Peruvian Legacy
Peruvian Don Julio
PPeruvian Caligula
Jolimont 2 Peruvian Alpamayo
Peruvian Hemingway
Jolimont 2 Peruvian Sweet William
NGG Lionel
Snowmass Quechua's Shahtoosh
Alpaca Husbandry:
Alpacas are given grass hay, pellet formula and salt.
Shearing done once yearly, usually during Spring, allowing good regrowth before Winter.
Alpaca shows are always fun. Our alpacas have been awarded many ribbons, and good friends made along the way.
Toe nails trimmed and deworming done regularly.
8 way vaccination given yearly, and teeth checked.
Males are kept in a separate location to females, except at breeding time. A specific male is selected, records kept showing date bred, to whom, and when due.
Birthing time, always an exciting time of year!